I was one of the lucky few who were at the Big W on that extraordinary night of 2nd April, 2011 and this is my story :

Everyone i met during the CCI Test match in 2009 wanted to be there at the new Wankhede for the World Cup Final.

I got a taste of the new Wankhede in the NZ-SL match and I was privileged to be in Motera for the Quarter-Final but World Cup Final was the real deal.



It was difficult to get sleep one day before the match because I could not believe that it was finally happening for me.

For a 2:30 pm start, I was in the stadium by 11:30 am. I had never seen people of so many nationalities in a Stand in a Cricket Stadium in India. The earliest person to reach Sunil Gavaskar Stand was a couple from Bangladesh. The 40s something uncle's dream of watching a World Cup Final had come true and he was there with the Bangladeshi Flag. He must have clicked 100 pics with the Bangladeshi Flag even before the match started.

There was a huge contingent from South Africa. Merv Hughes was there with his Australian Gang, There were atleast 3 Kiwi couples that I spotted and there more Sri Lankans then I could care to count. This one looked like a Global event for sure.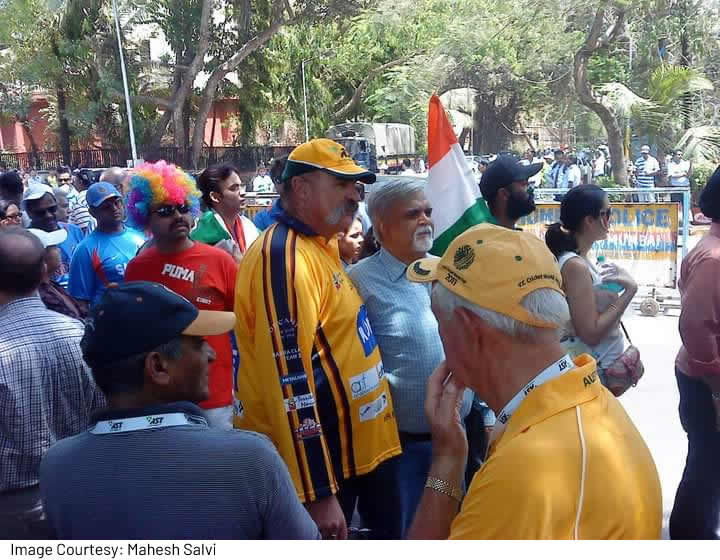 I remember seeing a journalist asking Kohli on how the atmosphere was like when the Wankhede Crowd was going "C'mon, C'mon, Everybody Say : I-N-D-I-A" in the background.

First things First - singing Jana Gana Mana in a Cricket Stadium is something that never fails to give me goosebumps. Your heart swells proudly and it's impossible to describe that feeling when you sing the national anthem with 33,000 people together.

A constellation of Stars assembled at Wankhede for the Final. However, the biggest cheer was reserved for 3 time World Cup Winner Adam Gilchrist when he was shown on the giant screen in the 2nd innings. In the Presentation Party, the biggest cheer was for West Indian legend Clive Lloyd. Sharad Pawar getting booed at Wankhede is just another day in the office for a Wankhede faithful.


Sanga's wicket was a Wankhede special. Crowd in Mumbai usually ends up doing a Mexican wave when the opposition batsman is settling down. It's difficult for batsman to pick up the ball when that happens & Sanga got out when a Mexican wave was started by the Garware Pavilion crowd as he was inching closer to his 50. We call it 'CROWD WICKET' in Mumbai.

Mahela Jayawardane became the first man (and only man till now) to score a 100 in a WC Semi Final ( 2007) & WC Final ( 2011 ). The ovation that he got from the crowd would have made a home boy proud.

Sri Lanka finished strongly and had the momentum.

Viru was sent back by Malinga. Sachin started well and his straight drive was delightful to our senses but his wicket bought pin-drop silence in the stadium.

Malinga celebrated it whole heartedly and that ended with him getting subjected to the regular "Ek-do, Ek-do , Malinga ko phek do" chant from the North Stand.

It was really scary to see a fired-up Malinga bowling to a young Virat Kohli in that over. Those were moments where even the atheist in me was praying " I just hope he survives this" . Thankfully Virat survived and he stitched a meaningful partnership with Gautam Gambhir.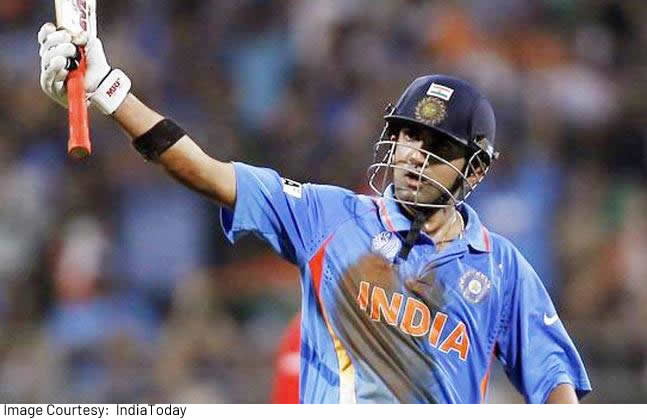 Gambhir once batted for 10 hours in a 2nd innings of a Test Match to get a Draw for India in NZ. That guy has serious character and he showed all of it & anchored the innings after Sachin got out.

Dhoni had a very ordinary World Cup with the bat & he was brave in promoting himself over the in-form Yuvraj Singh. The gamble turned out to be the difference in the end.

The left & right hand combination worked. MSD played with uncommon determination & perfectly kept the required rate in check.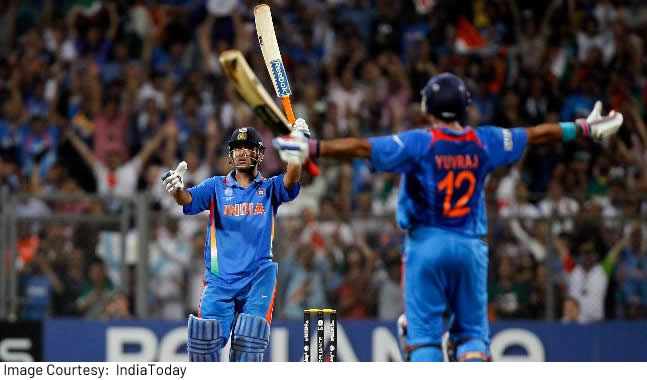 I remember having visuals in my head of how India would win the match for 3 years before the event finally took place. I had imagined almost every player in our line-up hitting the winning runs but when it happened in front of my eyes it was better than all those dreams put together.

While others were screaming at the top of the voice, I was literally stunned with how MSD finished it. It was too good to be true. Who finishes a World Cup Final like that ?


The fireworks were spectacular. "India Indiaaa", "Sachinnnn Sachinnnn", "Garry Garry" were chanted when the team was doing the lap of honour. No one left the Stadium till the Team had their last lap of honor with the cup. 'Maa Tujhe Salam' resonated around the stadium. It was unreal on so many levels. I had never felt that kind of happiness in my life. The special bit was that the happiness that I felt was felt by everyone around me.


After the Final, strangers in the stands were hugging each other and there were hand-shakes of commiserations towards Sri Lankan fans. I did not see any sort of hostility between Indians & Sri Lankans in the stadium.

The fans in the stadium congratulated every Jawan outside the stadium that they met till they reached the Churchgate Station, It was a carnival like atmosphere. I had never seen so many Indian Flags in my life.The fireworks were spectacular. The party from Wankhede had spilled on the streets.

My friend Faraz who was looking for me at the station ran towards me, gave me a hug and said "World Champions " I reached my Station after one and a half hour. I did not tune into a FM station or a TV Channel when I reached home. I did not want to disturb the wonderful space in which I was in.

Next day, I took my Sri Lankan friend who had travelled from Colombo ( for the Final) on a Mumbai darshan. The visit helped him in overcoming the trauma of losing the World Cup final.

Around 4 pm on 3rd April, I purchased almost every newspaper from a Newspaper vendor at Bandra Station. He told me "Sir lagta hain aapne match nahi dekha". I politely just smiled back at him & then I read all those newspapers for the next 24 hrs. Those newspapers are still my favourite collector's item.

Even after 9 years when I pen this down, it still feels like a dream. I have been to 9 venues in the country and spent over 80 days in Cricket stadiums but I can safely say that "There will never be a night like that"